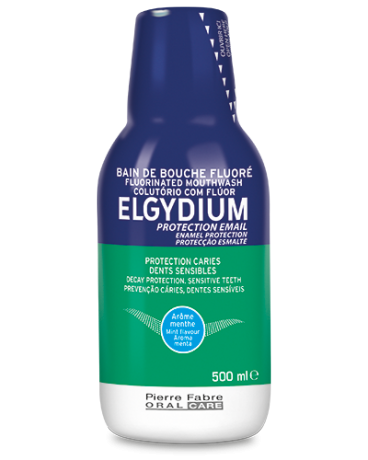 ELGYDIUM ENAMEL PROTECTION Mouthwash
COSMETIC
ELGYDIUM ENAMEL PROTECTION is a ready-to-use mouthwash that helps strengthen tooth enamel. It is recommended as a complement to toothpaste, for oral hygiene in areas that are hard to reach when brushing (interdental spaces, necks of the teeth and under braces).
​Available in pharmacies and drugstores in KSA, Kuwait, UAE, Jordan and Bahrain.
500 ml bottle with measuring cup
Product advantages
Ideal complement to brushing
Fluoride strengthens the enamel
Leaves breath fresher
Effective for
Recommended for
How to use
Use undiluted after brushing. Rinse around the mouth for 30 seconds with 10 ml of solution, then spit out without rinsing out the mouth. Do not swallow. Not to be used by children under six years of age.
Professional opinion
Use ELGYDIUM ENAMEL PROTECTION as part of your daily oral hygiene routine to prevent the development of tooth decay. This mouthwash prolongs the effect of brushing with a toothpaste such as ELGYDIUM TOOTH DECAY PROTECTION. Its mint flavour helps keep breath fresh.
Composition
Fluorinol® (nicomethanol hydrofluoride, 250 ppm fluoride ions, patented (Patent France 75. 23715)),
Binds firmly to the enamel to help remineralise, strengthen and protect the teeth.
Siliglycol (PEG-12 dimethicone)
Film-forming agent that promotes fluoride take-up by the enamel.
Clinical results
Nicomethanol hydrofluoride (Fluorinol®) helps to remineralise and protect the tooth enamel. It helps the enamel take up five times more fluoride, from the first minute of contact, compared with a standard mineral fluoride (1). This fluoride then helps remineralise the enamel and leaves it more resistant to the acid attacks that cause tooth decay.
Siliglycol (PEG-12 dimethicone) is a film-forming agent that promotes fluoride take-up by the enamel (2).
(1) L. Jung et al. Rôle du nicométhanol dans le transport d'ions fluor pour favoriser la prévention des caries [The role of nicomethanol in the transport of fluoride ions to promote tooth decay prevention]. (in vitro test)
(2) Lacout et Al. Effets d'agents filmogènes sur la fluoration d'une apatite analogue à l'émail dentaire [Effects of film-forming agents on the fluoridation of apatite analogous to dental enamel]. (in vitro test)