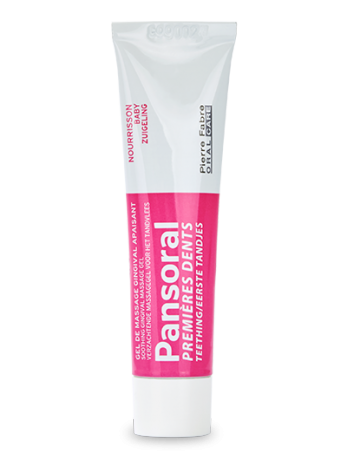 PANSORAL Teething
COSMETIC
PANSORAL Teething is a gum massage gel for babies which helps to relieve teething pains. It contains two plant extracts (camomile and marsh mallow) with soothing and calming properties.
​Available in pharmacies and drugstores in Kuwait, Jordan and Qatar.
Product advantages
Natural plant-based extracts
Soothing
Sugar- and alcohol-free
Effective for
Recommended for
How to use
Apply a pea-sized amount of gel with a clean finger by gently massaging baby's gum, three to four times a day.
Professional opinion
The PANSORAL Teething gum massage gel helps babies through the discomfort of teething. Camomile and marshmallow, reputed for their soothing and calming properties, are commonly used in dentistry. In the past, parents often gave children marshmallow roots to chew on, to relieve teething pains.
Composition
Camomile flower extract (Anthemis nobilis)
Marshmallow root extract (Althaea officinalis)
Clinical results
During a tolerance test carried out on 30 babies aged between six and 18 months over 21 days, 97% of mothers were satisfied with the long-lasting relief provided by PANSORAL Teething, 94% with its quick action and 100% expressed overall satisfaction.
87% said they would recommend it to other parents.
News about Tooth Decay in Kids